As part of my faculty led program with MSU, my "Objects of Travel" class requires 5 assignments focusing on the theme of "collecting". Just wanted to throw that out there to any readers questioning why this post is a tad different than the others.
A couple of weeks ago our class studied one of Virginia Woolf's essays entitled "Street Haunting". Basically, Woolf tells the story of an outing she embarks on one night in London in search of a pencil. What the reader comes to find is that it isn't really the pencil that she is searching for, but rather the observations and encounters she has along the way. When she returns from her walk, she sets the pencil on her mantel as a reminder of not only all of her memories, but also how the walk changed her perspective on life in different ways. Thus, the pencil represents a collection of her memories and herself from that walk.
Unlike Woolf, I wasn't set out on a journey to find an object that would remind me of my day in London. I assumed that I would simply buy a touristy Union Jack flag or miniature Big Ben figurine (to add to my collection of course!). Little did I know, my object would make its appearance later on in the day.
When we went to London last Thursday it was a whirlwind of a day. The streets were packed full of tourists and civilians alike, all buzzing about to the sounds of streetcars whizzing around corners (which we quickly learned were not easy to dodge). As soon as we stepped out of the bus we turned the corner to find ourselves standing in front of the domineering, magnificent Westminster Abbey.
Our tour guide, Bryan, walked towards the House of Parliament and there he was, Big Ben himself, rising above the River Thames as if he seemed to be watching over the city. Across from that was the London Eye, moving so slowly you had to look very carefully to see the minute movements.
Next we headed to one of the most anticipated sites, Buckingham Palace! Sadly we weren't able to get up close enough to a picture with the infamous iron, gold-tipped gate, but we were able to line up along the road for the changing of the guard! I had never seen anything like it, the soldiers all marched down the streets in different directions to the penny whistle tune. I couldn't help but be reminded of the loyalty of the guard as they marched, undeterred by the mass of eyes watching their every movements. Their love for their country and queen is evident in the strong mechanical strides of the moving pack.
After we had lunch we were privileged to tour the Churchill War Rooms, where Winston Churchill and his war cabinet met underground when London was being bombed nightly. We learned that these war rooms were chosen for their location not only because it was close to 10 Downing Street (home of the prime minister), Westminster, Buckingham Palace, and Parliament, but also because Churchill refused to leave London and back down from a fight. I think it is so respectable for him to stick it out with the fearful people of London when he had the option of safety. That just reflects the loyal nature that the people of Britain seem to be especially blessed with.
Lastly, we decided to go back to Westminster because I was NOT about to miss the opportunity to see this incredible place. Immediately upon walking in my breath was taken away by the high ceiling adorned with ornate designs, stained glass windows with beautiful scenes all along and shrines upon shrines upon SHRINES! So many famous people are buried there, not just kings and queens of years past! Charles Dickens, Jane Austen, Michael Farraday, Lewis Carroll, just to name a few. Even though photography isn't allowed I snagged this little shot of the knave. This is actually right in front of where Isaac Newton was buried! Another fascinating tidbit about the Abbey is that every hour on the hour a priest comes over the speaker and asks everyone to bow their heads in prayer, as a reminder of the true purpose of the church. So many different religions and people go in and out of that church, and I know it was a blessing for me to be able to experience that time of silence and prayer with people literally from all around the world.
Being the American tourist that I am, I couldn't help but ask one of the workers to point out the exact path Kate took for the incredible wedding I woke up at 4 in the morning to watch. Naturally, we proceeded to walk the same path (with Jenni as my Pippa) until we came to the center of the abbey where coronations, funerals, and weddings have taken place for hundreds of years. Just two days before, the Queen had stood in the very spot I was in for her 60th coronation anniversary for the Diamond Jubilee.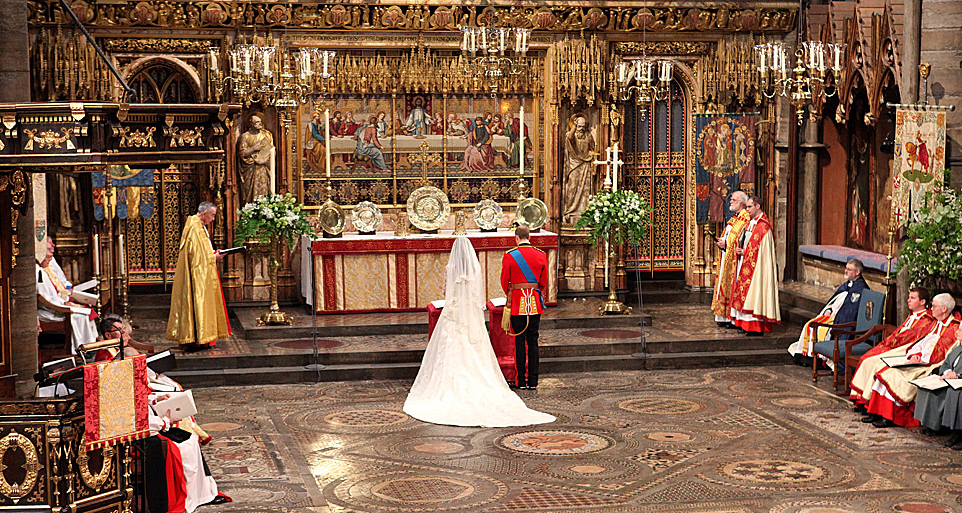 Next we moved on to one of my favorite parts of the abbey, the Lady Chapel. I'm going to put a picture I found on the internet but just know that it will never do it justice. I literally stood in awe just taking it all in for about five minutes. Here's a little link to some interesting facts about Henry VII's Lady Chapel.
http://www.westminster-abbey.org/visit-us/highlights/the-lady-chapel
I left Westminster feeling completely content and struck with awe in what I had just experienced. We then had about 2 hours to wander around that area of London, with no plans in mind. It was really freeing, just wandering around not knowing what might come around the next corner. We happened upon one of the bridges over the River Thames where we took in the beautiful horizon of London, with Big Ben on our right and the London Eye on our left. Just standing there taking it all in was more than I could have asked for.
Next we went down to Trafalgar square where my object makes its first appearance. A street entertainer approached me and said, "Miss, I have something for you." He promptly grabbed my finger and attached a piece of string to it which he quickly began flinging in all different directions. The swift movements became more organized and a shape began to take form, full of vivid colors of red yellow white and blue. Before I knew it, he had constructed a beautifully woven bracelet around my wrist, a sweet reminder of the spontaneity of that day and the memories of my first visit to London. Of course I paid him, but he made sure to say, "You choose what you owe, it is not for me to decide my worth." He literally would have been fine with either one pence or 5 pounds. I had to decide the worth of this man in that moment, as well as the worth of the bracelet itself. I scrounged around in my wallet for change and ended up with a pound. The bracelet itself probably wasn't worth 5 pence, but the meaning was worth so much more.
(Sorry for the awkward picture, I couldn't untie it because as you see, it would all fall apart and I would never be able to get it back on it I did.)
I'll never forget that experience or the experiences of that day that led up to it. You see, the vivid colors of the string remind me of the beautiful reflections of the stained glass windows of Westminster Abbey. And when I think of Westminster I think of Parliament, Big Ben, and the London Eye all standing in their glory nearby. And when I think of these things I am reminded of the incredible opportunity this entire trip has placed before me, as well as the relationships that I have formed along the way. And it all is triggered in a simple string bracelet. This isn't simply a stuffed bear or flag that I'll look at every now and then, but is actually something I can look down at my wrist and remember my first London trip every single day. And in my opinion, my object is much prettier than a simple pencil.